The Olympia display home is impressive and luxurious with detailed touches and high quality craftmanship. With an incredible design, stunning interior fit-out and excellent attention to detail, the Olympia is the ultimate sanctuary for any family.
Highlights of the Olympia includes the dining area with beautiful light fixtures and four metre high windows. Natural light fills the space and overlooks the pool and large entertainment area. The alfresco entertainment area is perfect for having get-togethers with family & friends. In the guest bedroom, there is an outdoor bath which is quite the treat!
The well-designed home theatre room is the place to get the whole family together to watch a blockbuster movie. Relax in the leather reclining comfortable chairs and enjoy the action on the big screen under the star lit ceiling.
On the second level is where you can find a living room, study area, four bedrooms and the master bedroom. The master bedroom has a stunning feature wall as well as a walk-in dressing room, a make up desk and a large ensuite. In the ensuite, there is a striking golden tiled shower with two showerheads and the stone bath where you can unwind after a hectic day.
The Olympia showcases excellent craftsmanship, attention to detail and immaculate design aesthetics that Roselea Homes is renowned for. Filled with open living spaces and natural light throughout, the Olympia display home is a delight for families of any generation.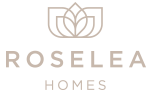 A family owned and managed company, our excellent reputation has been built by consistently delivering luxury family homes at an affordable price. Our expert building knowledge and superior quality workmanship is the cornerstone of our company.
We pride ourselves on providing outstanding personalised customer service. Throughout every stage of the design and building process, we keep you informed and involved. We endeavor to exceed your expectations and make the process of building your dream home enjoyable and 'stress free'.